Rehabilitation & Release
The objective of the Hunter Wildlife Rescue is to return all rehabilitated wildlife back to their natural environment from the area in which it came, when they are healthy and are able to fend for themselves.
This healthy young male koala was rescued at Cameron Park, Newcastle. The koala was microchipped, relocated and released in Sugarloaf Range.
Getting ready to release a koala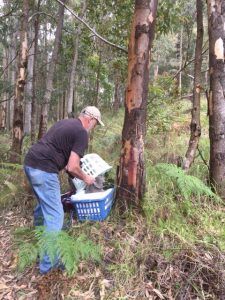 The koala finds a suitable tree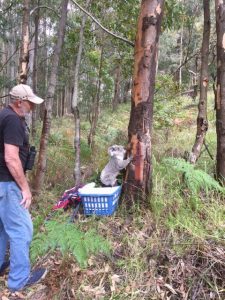 Up, up, up he climbs – on his way!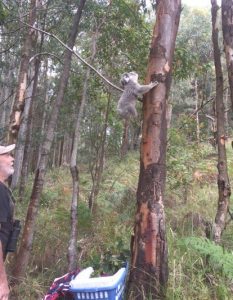 This is Luther a wombat rescued when his mother was killed on the road. After 12 months in care he was released back to the wild.
Luther on Day 1 of his rescue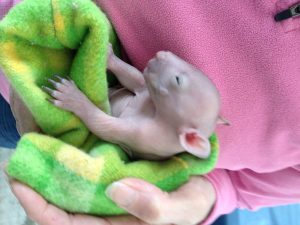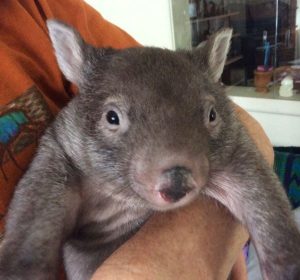 Luther is growing quickly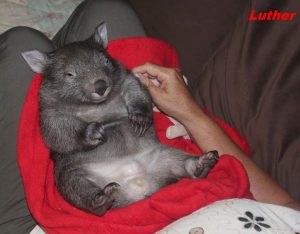 Peregrine- on a different course
How this peregrine got itself wedged tight inside the front of this car and how long it was there will remain a mystery. Kristy Hobson responded to our Hotline Call for a bird stuck in the grill of a car parked in the shopping centre at Warners Bay.
A member of the public walking past noticed the distressed bird and called the Hotline. With the help of a crowbar, Kristy and the caller extricated the falcon whose wing and leg were held tight and got the bird into care.
The peregrine was suffering from shock and no wonder.
In the wild, this peregrine may be able to travel at up to speeds of 320km/h but its trip 60km/h stuck in the car must have been a terrifying ride for this bird. The owner of the car was never located.
Below: After several weeks in care this peregrine made a full recovery and was later released.
Pergrine trapped in grill of car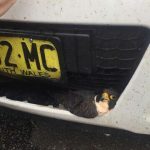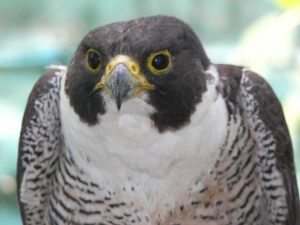 After several weeks in care this peregrine made a full recovery and was later released.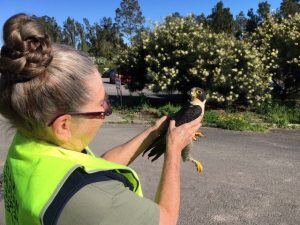 A Community Effort
"Working together we can achieve much."
Catherine Hill Bay – A beautiful warm summer's day and the surf is high. On a remote beach, a local surfer was not expecting to share the waves with a swamp wallaby!
How it came to be in the surf one can only speculate… chased by wild dogs perhaps. Regardless, the surfer managed to bring the wallaby ashore and contact Hunter Wildlife Rescue. Another community member stepped in to help carry the wallaby the long distance back to the car, and up a steep bush track
.
Thank you to the many other Catherine Hill Bay community members who helped rescue this wallaby. Sadly it had inhaled too much water and died shortly before vet assistance could be gained.
Thank you to all communities who care enough to help our wildlife.
A member of the community rescuing a wallaby from the surf