My Possum Katie!
Late last month a 2 kg female Brushtail Possum was hit twice by a motor vehicle.  Fortunately the driver stopped and called our Rescue Line.  The possum was brought to me looking a very sore and sorry site but fortunately there were no obvious open wounds or broken bones but she was not using her left arm.  After a quick check of the pouch I decided there was no joey.
She was extremely docile and quietly settled into her new home which caused me to become concerned as anyone who has any experience with Brushtail Possums knows they are anything but cooperative and quiet when you attempt to handle them
After two days we felt her concussion had subsided enough to have her x-rayed the next day.  That evening as I was giving her medication I had to look twice at what I thought I could see!  It was a tiny hand poking out of her pouch!  What a surprise!  Here I was looking at this tiny hand and the pouch moving thinking, "How did I miss that, I hope it isn't injured".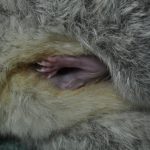 Next day off to the vet who discovered she had chipped a bone on her shoulder and her elbow was badly swollen.  The fantastic news was the male joey had suffered no injuries.  What a relief!
She has been recovering with me for almost two weeks now and is more alert and today decided my finger was getting too close to her pouch!
My very first Possum bite.  But she was very obliging and sat back and I watched the joey move around in her pouch before once again waiving to the crowd of one from the safety of his snug home.  It is obvious she is on the road to recovery as she has managed to destroy the shade cloth lining of my bird cage – thank you Katie.
      by Jeannette Porritt,  July 2013