Hunter Wildlife Rescue Centre 
The first wildlife rescue centre in NSW……Be a part of history and lend your support by donating to The Hunter Wildlife Rescue (NATF)
Online:  BSB 032-524; Account No 142209; Account name: Native Animal Trust Fund.
or PO Box 17 SHORTLAND 2307.  All donations are tax deductible.
NATF Hunter Wildlife Rescue's current major project is the relocation of the donated AGL building and developing it into Hunter Wildlife Rescue's administrative and educational base. Relocated on March 14th 2015, this project will establish community infrastructure to better support Hunter's injured and orphaned wildlife by delivering an enhanced environmental facility for the Hunter. It will support community participation and cohesion through the establishment of a call-centre with multiple phone lines to respond to the ever increasing number of calls for advice and assistance from the Hunter community through its 24 hour Emergency Rescue Hotline; As an educational centre, open to the community, it will be a place where the community can bring injured wildlife; inquire about volunteering, learn more about the diversity of wildlife found in the Hunter area and how to respond effectively to injured, sick and orphaned wildlife. It will enable improved community coordination of emergency response in times of disasters associated with bushfires, storms, floods, extreme heat or chemical spills, when the Hunter Wildlife Rescue Disaster Relief Team is called to assist large numbers of injured and displaced wildlife; For volunteers, a home base with a separate training room with Smart technologies, will enhance volunteer's knowledge and skills associated with best practice rehabilitation; a place to meet, reduce isolation, and develop a pride in the contribution that volunteers make to the Hunter community.
FOLLOW OUR PROGRESS
From this:
   

TO

   TO
May 2017 Extension to create an educational space for our Family Environmental programs Construction of Disabled Access and Deck  March 2017
Inaugural Easter Fun Day 2017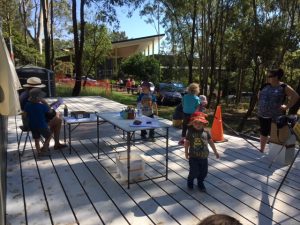 Update: June 2016
The Hunter Wildlife Rescue Centre received a new face-lift with the recladding of the building.
Update: April 2016
January 2016
The Hunter Wildlife Rescue Centre is slowly taking shape into becoming the operational base for the Hunter Wildlife Rescue (NATF).  The training room is fully functional after new carpet was installed and all training will be conducted from the new premises. The desks and new chairs and TV screen will make this the training hub for its volunteers to learn about best practices in the rehabilitation of injured, sick and orphaned fauna.   2016 will see the focus move to developing the Administrative and Community Education phases of the Centre becoming a reality.
Update December 2015
New carpet and vinyl being laid
Update: September 2015
The first Hunter Wildlife Rescue (NATF) General Meeting held in the Centre.  Click here to read more about Historic General Meeting Sept 15
Update June 2015
AGL staff joined with Hunter Wildlife Rescue volunteers to give the inside of the building a fresh coat of paint.
March 14th 2015  Relocation Day
Above:  Relocation on March 14th 2015
With Thanks
Click below to find out how Hunter Wildlife Rescue has been assisted.
How You Can Help                          Make a donation on line or send to NATF Hunter Wildlife Rescue PO Box 17 SHORTLAND 2307     Pouches for possums and joeys – NATF